Skip to main content
It looks like you're using Internet Explorer 11 or older. This website works best with modern browsers such as the latest versions of Chrome, Firefox, Safari, and Edge. If you continue with this browser, you may see unexpected results.
Announcements
The elementary cycle day calendar for next year is attached above.
Elementary Materials Review Committee starts September 6. Please email Gwen Jackson if you wish to join the committee. Come on! It's fun and you get free books for school library. See the attachment for additional information.
Online subscriptions form due August 30. If your principal wants to spend funds for BrainPop or one of the Flix products, they can be included in this group purchase, so be sure to share this information.
Golden Sower supplies order form due September 9
September Curriculum Day Friday September 15th @ Henry Doorly Zoo Aquarium 8:00-11:00 or 12:30-3:30
New Teacher Meeting Wednesday October 18th 4:45 in Library Services @ TAC
Working with Paras in Your School Library
Look for information on para expectations in next week's newsletter!
Dragon Loves Tacos Cut Out
We were generously given this cut out from Bound to Stay Bound books! We would like to set up a rotation system for this to visit schools throughout the year. If you would be interested in having the cutout visit your library, please email Courtney and we will add you to the list! The cutout would be available to your library for 1 week before moving on to the next school. Our plan is to keep a list of who is interested and have the cutout move its way down the list.
FREE PD Oppotunity
Are you interested in making books for students in grades K-2 who need assistance with reading? Dixie Trevarthen provides each person with 2 identical easy readers. 1 is deconstructed and laminated. The other is used to cut out 'target' sight words. The target words are then attached w/velcro dots to a page. Students manipulate the words when they recognize them. The entire book is bound (binding machine also Dixie) and Ta Da...you have a book. She also has a simple book with sheet protector pages printed from the Makerboard (Special Ed uses) which is a rebus book. Then the pages are attached together with fancy duct tape...very cool. I kept mine. She will provide materials as it is from the ESU. (Kim Beebee--Jackson Elementary)
If you are interested in attending, please email Courtney with any and all dates (Sept 20/21) that work for you. Location TBD based on size of group. 4:45 PM to approximately 6:15 PM. This opportunity is for one day. We are looking for which day would work best for the most people.
Who Ya Gonna Call...or Email?
The fastest way to get your questions answered is to contact the right person!
Technology Training/Support
Debra Bordenkecher

531-299-9841: Handles training needs of classified staff (including paraprofessionals)
Hardware issues should be handled by your building assigned technologist. If this person is not in the building, call or email the Help Desk 531-299-0300
DON'T FORGET TO ADD YOUR SCHEDULE!
Don't forget to add your schedule to the One Note Notebook! If you need assistance, let us know.
Share Your Annual Report
We have had a request from a librarian to see if anyone might be willing to share their annual report. This might be a good way to get great ideas from each other! If you are willing, please email your annual report to Courtney. We will create a folder in the Notebook with any shared annual reports. Thank you!
Library 2.017: Makerspaces
We're excited to announce our third Library 2.017 mini-conferences: "Makerspaces," which will be held online (and for free) on Wednesay, October 11th, from 12:00 - 3:00 pm US-Pacific Daylight Time (click for your own time zone).

This event is being organized in partnership with Heather Moorefield-Lang, who will serve as moderator for the opening panel and as the closing keynote speaker.

There has been a lot of talk about makerspaces in libraries over the past four years. If you are unsure what makerspaces are, think of them as creative locations for tinkering, collaborating, problem solving, and creating in a library or educational space. No matter how many maker learning spaces you may visit, you will quickly notice no two are the same. Each librarian and makerspace delivers their own brand of service to their individual community. Attendees will investigate how librarians with makerspaces can create new partnerships and collaborative efforts in and with their communities. Offering further services and methods to meet patron needs.
We invite all library professionals, employers, LIS students, and educators to provide input and participate this event.
Participants are encouraged to use #library2017 on their social media posts leading up to and during the event.
Library Fitness Routine
SLJ--Let's Get Graphic: 100 Favorite Comics And Graphic Novels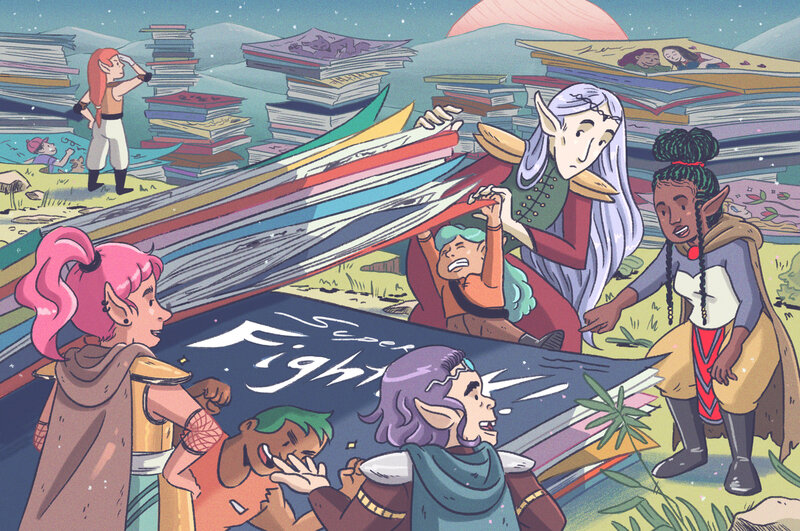 Summer's the time for comics — Marvel and DC blockbusters are in movie theaters, fans are preparing to descend on San Diego for its epic annual Comic-Con, and if nothing else, your friendly local comic store or library is there to provide an air-conditioned Fortress of Solitude where you can escape the steamy streets.
So it's a perfect time for our super summer reader poll — a few months ago, we asked you to tell us all about your favorite comics and graphic novels. We assembled an amazing team of critics and creators to help winnow down more than 7,000 nominations to this final list of 100 great comics for all ages and tastes, from early readers to adults-only.
REMEMBER--It is still very important to read reviews for these comics and graphic novels to make sure they fit with your school population.
Projects that Create a World of Good
Projects That Create a World of Good
The Wonderment is a global community that promotes awareness and action as youth explore the world around them. Young people submit their ideas for community-improvement projects to the site, and with each submission a "Wondermeter" rises higher. Once the Wondermeter reaches the top, an outside donor will fund the latest user-chosen project—for example, a water-sanitation project in a developing country. Through the site, youth can take their compassion and caring for others and crowdsource community-improvement projects around the world.
Omaha Public Schools does not discriminate on the basis of race, color, national origin, religion, sex, marital status, sexual orientation, disability, age, genetic information, citizenship status, or economic status in its programs, activities and employment and provides equal access to the Boy Scouts and other designated youth groups. The following individual has been designated to address inquiries regarding the non-discrimination policies: Superintendent of Schools, 3215 Cuming Street, Omaha, NE 68131 (402-557-2001).
Las Escuelas Públicas de Omaha no discriminan basados en la raza, color, origen nacional, religión, sexo, estado civil, orientación sexual, discapacidad , edad, información genética, estado de ciudadanía, o estado económico, en sus programas, actividades y empleo, y provee acceso equitativo a los "Boy Scouts" y a otros grupos juveniles designados. La siguiente persona ha sido designada para atender estas inquietudes referentes a las pólizas de no discriminación: El Superintendente de las Escuelas, 3215 Cuming Street, Omaha, NE 68131 (402-557-2001).