Skip to main content
It looks like you're using Internet Explorer 11 or older. This website works best with modern browsers such as the latest versions of Chrome, Firefox, Safari, and Edge. If you continue with this browser, you may see unexpected results.
Announcements
Upcoming Events:
Send "Day in the Life" picture of your school library to Courtney any day in April to help celebrate School Library Month on our social media pages.
Tuesday April 17th New Librarian Meeting 4:45-6:00 TAC--Library Services
Wednesday April 25th Secondary Team Meeting 12:00-3:00 Location TBD
Tuesday May 1st Retirement and Farewell Get Together 5:00 TAC--Library Services
SLJ--School Librarian, Where Art Thou
Most everyone in our profession is aware that school librarian numbers have dipped, but we haven't known the numbers or a time line for these losses. What has been happening to school librarianship? The well-accepted story in the field is that it has been shedding jobs, which is inarguable. But there has been too little overarching analysis to help describe the true state of the profession. To address that gap, it's useful to illuminate when the job losses began, and at what rate, and to explore some of the factors impacting the national data.
Why Do We Need Future Ready Librarians?
Who Ya Gonna Call...or Email?
The fastest way to get your questions answered is to contact the right person!
Technology Training/Support
Debra Bordenkecher

531-299-9841: Handles training needs of classified staff (including paraprofessionals)
Hardware issues should be handled by your building assigned technologist. If this person is not in the building, call or email the Help Desk 531-299-0300
Explore the Nebraska Virtual Capitol
The Nebraska State Capitol building is an architectural wonder and now you can visit it anytime, anywhere. Take a 360-degree virtual tour of the Nebraska State Capitol and Governor's Mansion to see the beauty of this treasured landmark. Step inside the legislative chamber; see amazing views of the rotunda and the Sower standing majestically on the dome – without ever setting foot in the building.
For educators, there are links to a curriculum website with lesson plans and other resources for teachers designing Nebraska studies and art lessons to use in their classrooms. The "Nebraska Virtual Capitol" curriculum is targeted to K-12 students, with an emphasis on fourth graders who are studying Nebraska history, and is a resource for students who cannot visit the buildings due to distance or cost.
CSM--How to Raise a Lifelong Learner
Beyond grades and test scores, help your kid hang onto their natural curiosity and wonder.
3/5/2018
"Look! When I mix these paints, I get a whole new color!" Hearing your kids get excited about learning feels like glitter bombs exploding in your heart. And it's confirmation that school and report cards are really only one sign that your kids are learning. While grades and test scores are important, what about the sparkle in their eyes when they discover a "new" bug in the backyard, see a painting that inspires some art of their own, and overcome frustration to go hand-over-hand across the monkey bars? In the end we want their love of learning to go beyond school and sustain them throughout their whole lives.
Unfortunately, lots of kids start to lose their passion for learning as they grow up. Some research indicates that 40 percent of U.S. high school students have little or no interest in school. How do they get to that place? For some kids school becomes less about learning and more about achievement, right answers, and grades. When that happens, they can start to think learning isn't fun. And as they get older, they want to play it cool and avoid showing a sense of awe about pretty much anything -- at least to us. Even kids with exceptional grades are sometimes in it for the letters on report cards and have lost sight of learning.
The good news is that even when kids claim they don't like to learn, they really do. Maybe their hand isn't the first to go up, maybe their grades (whether As or Fs) don't reflect what they know (and don't know), and maybe they can't articulate what they love to learn, but there are things we can do to combat this trend. And the media and technology that's literally at kids' fingertips can help. Though it's best to start encouraging kids to be lifelong learners when they're little, it's never too late. Here are some tips to keep your kid's love of learning alive:
Start Early, Inspire Often
Using media to inspire learning
Model Learning
Using media to model learning
Don't Be So Sure
Using media to explore what you don't know
Go Beyond Subjects and Skills
Using media to foster soft skills
Keep it Real, Encourage Autonomy, Support Self-Reflection
Using media to encourage kids to learn on their own
April is Autism Awareness Month
Check out over 60 videos curated by the ESU Coordinating Council on Autism.
World Autism Awareness Day is April 2nd.
Quick Exit Ticket Idea from Pawnee Elementary
Just a little black paper and some sticky notes can make for an easy exit ticket. "What Stuck with You Today?"
City Readers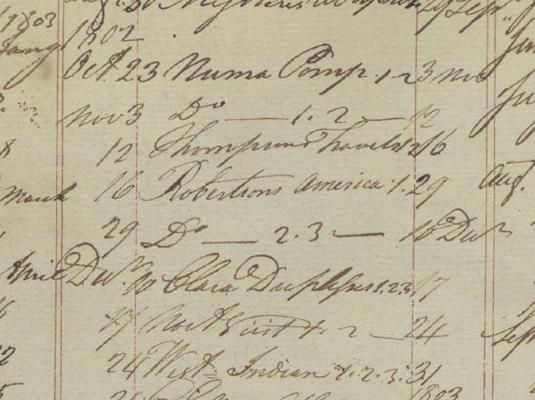 Books Read by America's Founders
City Readers is the New York Society Library's database of historic records, books, and readers. The Library's online visualization tools support the discovery and analysis of more than 100,000 biographic, bibliographic, and transaction data derived from digitized content from the Library's archives. Circulation records from 1789 to 1805, when the Library shared Federal Hall with the first American Congress, have been fully digitized and transcribed, and the data are now available for free through City Readers. Many of America's founders borrowed the Library's books, and their borrowing histories show a wide range of interests: they all checked out books on law, history, geography, travel, and even fiction. On April 7, 1790, 14 years before their famous duel, Alexander Hamilton and Aaron Burr both visited the New York Society Library: Burr was reading Voltaire; Hamilton was reading Goethe. Students can browse the histories of the founders to find out more.
SLJ--Tune into these 7 YA Lit Podcasts
Podcasts have steadily increased in popularity over the last handful of years. According to Edison Research, in 2017, 40 percent of Americans over the age of 12 listened to a podcast and nearly 25 percent had listened to one in the month prior to the survey. Even more eye-opening: 42 million Americans listen to a podcast weekly.
If you're new to the world of podcasts or have found them to be an excellent addition to your life and are seeking out more, here are a few young adult literature–focused selections that will not only help up your librarian game but also entertain and expand your reading world.
Omaha Public Schools does not discriminate on the basis of race, color, national origin, religion, sex, marital status, sexual orientation, disability, age, genetic information, citizenship status, or economic status in its programs, activities and employment and provides equal access to the Boy Scouts and other designated youth groups. The following individual has been designated to address inquiries regarding the non-discrimination policies: Superintendent of Schools, 3215 Cuming Street, Omaha, NE 68131 (402-557-2001).
Las Escuelas Públicas de Omaha no discriminan basados en la raza, color, origen nacional, religión, sexo, estado civil, orientación sexual, discapacidad , edad, información genética, estado de ciudadanía, o estado económico, en sus programas, actividades y empleo, y provee acceso equitativo a los "Boy Scouts" y a otros grupos juveniles designados. La siguiente persona ha sido designada para atender estas inquietudes referentes a las pólizas de no discriminación: El Superintendente de las Escuelas, 3215 Cuming Street, Omaha, NE 68131 (402-557-2001).